Solar Irradiation in South Africa and Solar Water Heating Performance
South Africa enjoys almost the perfect climate for solar water heating
The graph below shows the daily solar radiation per month for Johannesburg, Cape Town and Durban, and compares it against London and Rome.
Solar water heating performance is more consistent in Johannesburg than in Cape Town
Mj per day per m2 by month
(on a horizontal surface)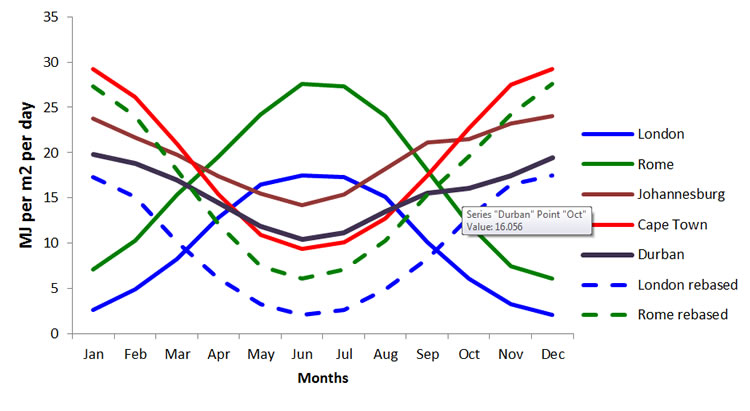 Graph explanation note. The solid lines show the levels of solar radiation. As London and Rome are in the northern hemisphere, their peaks are in summer being June, while Cape Town peak in summer in December. To provide a comparison of solar radiation, the dashed lines are "as if" London and Rome were in the Southern hemisphere. London solar radiation (as one would expect) is approximately 50% of Johannesburg.
In the graph below the solar radiation is compared over a year
The performance of a PAYGS system in Johannesburg and Cape Town will be very similar, although in winter the performance will be better in Johannesburg, and better in Cape Town in summer.
Average Daily Solar Irradiation Per Annum